Who can buy the Marriage Package?


Anyone 18 years of age and older.



Do you have to be age-verified or have the Access Pass?


No.



What is included in the Marriage Package?


- The buyer goes through a process to propose to his/her partner.
- If the partner accepts, then it is official!
- They both get a Name Change Token (plus name registration if their names are not already registered)
- They both get to send a special wedding announcement to all their friends once.
- They both get a special badge to display on their profile.
- Both of their profile cards will display "Married to AVATARNAME" status and will be linked to each other's. AVATARNAME will be the partner's name.
- Our Room to share. This is a fully furnished room.



How much is the Marriage Package?


$29.99.



Where do I go to purchase the Marriage Package?


Hover over 'Upgrades' at the top of the page and click on 'Marriage Package' in the dropdown, or click

here.





Can I use an IMVU Prepaid card to purchase the Marriage Package?


Not at this time.



What if the person I propose to says no?


You keep the package and can use it if you find another partner in the future. You can ask the same person again as well unless they have blocked you or removed you as a friend.



What about divorce?


Divorce is free and is available for couples who have been married for at least one day. You can find the link to initiate a divorce on the marriage page (at the bottom of the page linked with the phrase "Not working out?"). Either party will be able to initiate the divorce and get it without the other person's acknowledgement.

Once divorced, the Our Room feature will become inaccessible to both partners. If a shared room was previously made public then it will stay public under the name of the partner who had made it public. However the other partner's furniture items added to the room will be removed from that room.



How does Our Room work?


The feature is now live as of June 14, 2013 in client versions 487.24 and up. It will be automatically available to people who have taken advantage of the Marriage Package. This will be in addition to the My Room feature and will be a shared space for you to have as a couple. You have to have purchased the Marriage Package and completed all the steps to make your relationship official in order to access Our Room.

Partners will be able to decorate the room together using items from both their inventories.

Once ready, the Our Room can be made public - the person who publishes it will be that room's owner. Both partners will continue to have the ability to decorate and moderate that room even after it has been made public.

Once you upgrade to client version 487.24 and above, and if you have completed the Marriage Package steps, you will see the new Our Room mode. Others will see this mode as well but it will be locked.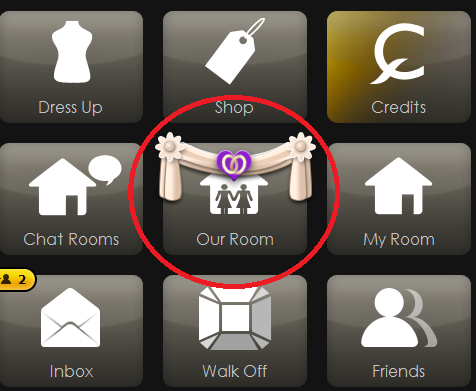 Can I be married to more than one person?


No. Also if someone has received a proposal and is still considering it, they may not be proposed to again until they make a decision.



Are there any restrictions on who can marry whom?


No. Only that both partners be 18 years or older. Also, you can only propose to someone who is on your friends list.



Can I hide my "married" status?


Yes. You can do so from your Account Settings menu options.



What if I am already married to someone on IMVU?


The marriage status badge, linked profiles and shared room features are only available to those who buy the Marriage Package. Your current Relationship Status or Special Someone relationships are not taken into account.



When do we get the Name Change Tokens?


Name Change Tokens will be delivered to each partner's account once the Marriage Package has been purchased by one partner, he/she has sent the proposal, and the other person has accepted it.



Is the "Our Room" feature in addition to the "My Room" feature?


Yes.



Will the married couple share their inventories?


No. The inventories will stay separate and private in each account. Both partners, however, will be able to add any rooms and furniture from their own collections into the shared room.

You will not be able to see each other's inventories. However if one partner adds an item to the shared Our Room then the other partner will see it and will be able to decorate with it.



Do we have to change our names if get the Marriage Package?


No. You both get a Name Change Token when you buy the Marriage Package, propose, and after the proposal is accepted. However, you do not have to use the token. It is your choice. The Name Change Tokens are yours to keep if you get divorced.



Who will be the room owner if the Our Room is made public?


Whoever makes the room public from their account will be the room owner. It will take up a slot in their public room allowance (1 for all users, except 10 for VIPs). The other partner will have decorating and moderating privileges.



Does Our Room feature come with a room?


Yes. Our Room does come with a fully furnished room that is yours to use. You can of course change the room and/or furniture items by choosing any item in both your inventories.

Simply use the Scene or Furniture tools in the bottom tool bar to switch rooms and/or furniture:








How do I make the shared room public?


Once you have set up your shared "Our Room", any or both partners can choose to make it a public room. To do so, go to the Chat Rooms mode and click on Manage to access the Manage my Chat Rooms function.

During creation of a new room, you will see the Clone from Our Room option. Furniture added by both partners will be in this room as long as the partners continue to be married. The room owner will be whoever makes the room public using one of their room slots.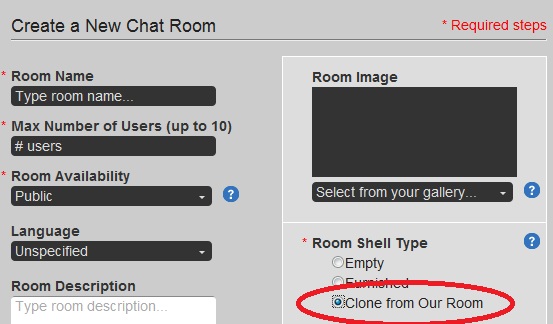 Can I use a furnished room I already have for Our Room?


Yes. If you are on client version 488.2 or up, you can load a furnished room into the Our Room and continue setting up your home.



Can I marry myself?


No.



Does this affect the Special Someone panel on our Homepages?


No.



Is the Marriage Package giftable?


Yes.